Looking for a highly qualified team to create your next concrete floor?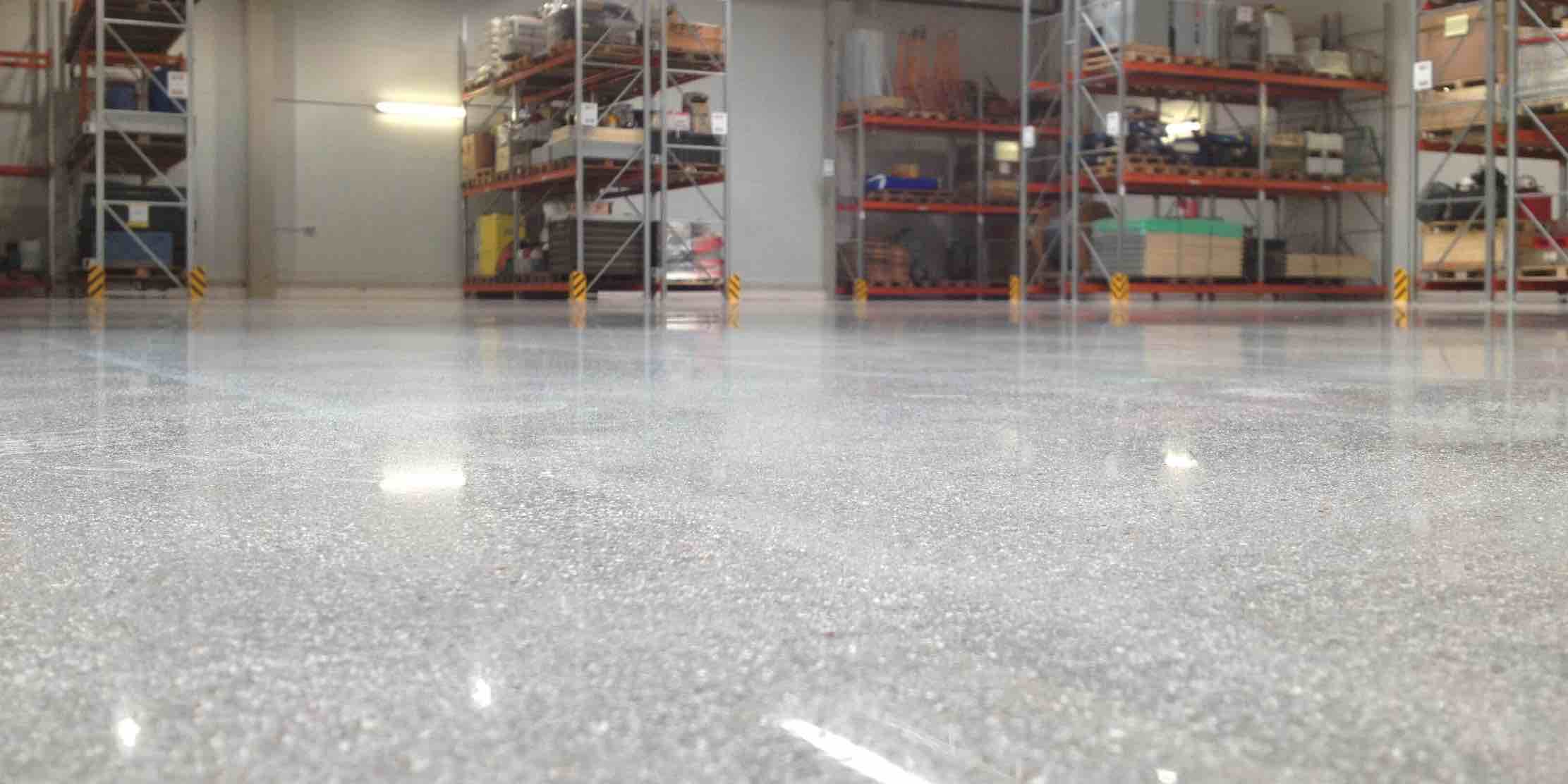 WE HAVE YOU COVERED!
Carpet, tile, and other flooring alternatives can't measure up to polished concrete floors.
Other floorings lack the durability of polished concrete.
They are also more porous than polished concrete.
This allows them to accumulate chemical residues and harbors the growth of bacteria and microorganisms.
Luckily, your concrete is already there, waiting to be polished up to the level of luxury flooring.
Advantages of Concrete Grinding and Polishing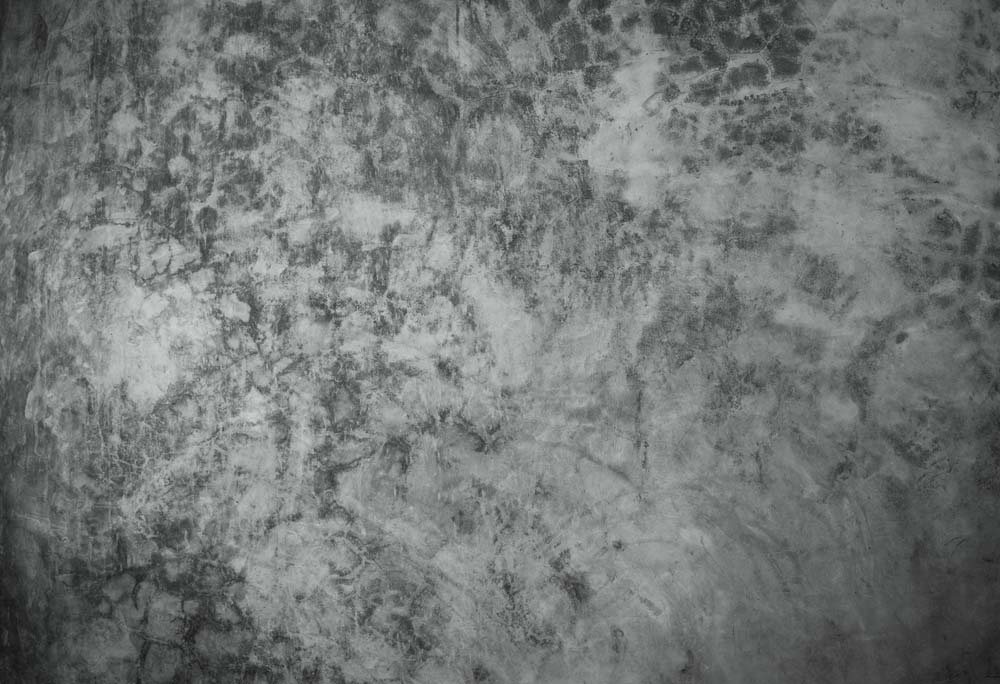 Endless Customization
We can help you reach any aesthetic goal.
The variety of patterns, styles, and colors available make for an endless number of possibilities. 
The Polished Concrete Customization includes:
Choice of Sheens – Shine level from honed to a high gloss

Choice of Colors – Stains or dyes, permanent, multi-color options

Choice of Effects- Stamps, custom engravings, logos, or graphics
Polished concrete floors are not only customizable but also unique. Polishing concrete reveals the unique character of the aggregate mixed into the concrete when it was wet. As we grind the concrete down to lower the levels the aggregate is further exposed. The polished pieces of aggregate create a one-of-a-kind organic pattern that is sure to impress any visitor.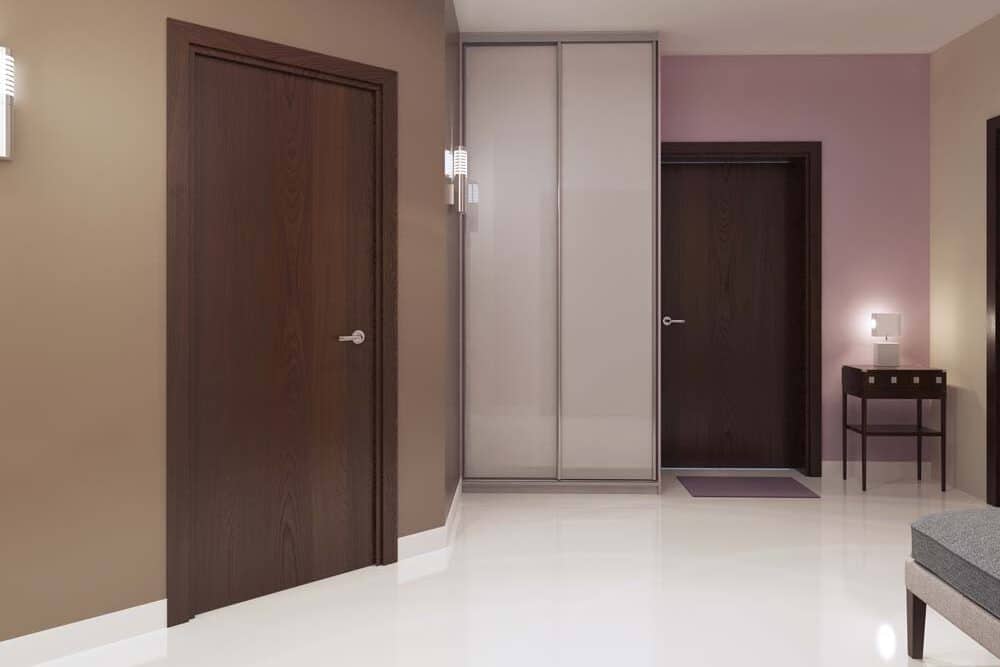 Low Maintenance
Polished concrete makes for a low-care floor system that's very easy to maintain and clean. They don't need to be waxed on a continual basis like many other hard-surfaced flooring options.
This is a huge saver of time and money in maintenance costs.
The low-maintenance nature of polished concrete floors also means there is no need for regular cleaning chemical purchases and cleaning equipment upkeep. 
The polished surface is so compacted it repels oils and other substances.
Since it is resistant to stains and is even resistant to the marks left by vehicle tires, messes are easier to clean up.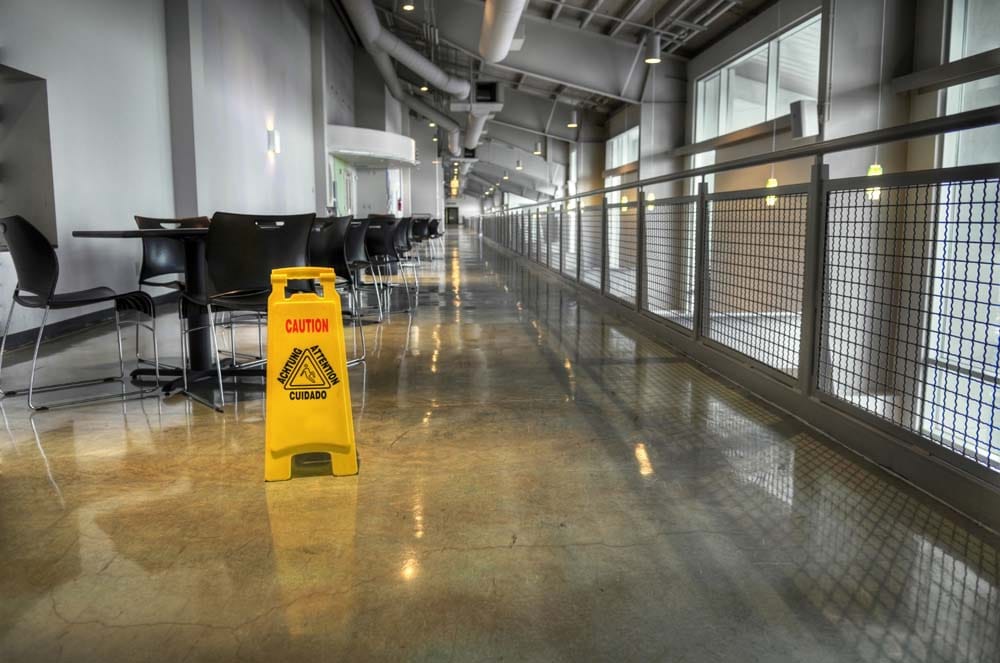 Safer Flooring
Polished Concrete is both more sanitary and more slip resistant than traditional flooring options.
The grinding and polishing processes harden and densify the concrete surface. This reduces the nooks and crannies of natural concrete.
Compared to almost any other flooring material polished concrete is far less porous. This means there's no space for dust mites, mold, mildew, or bacteria to grow. Not only is this more sanitary, but it also reduces allergens.
Polished Concrete floors are not more slippery despite their highly polished surface. The polishing process creates a flatter surface with a higher coefficient of friction (COF). This means it reduces the risk of hydroplaning on a wet floor.
Our concrete polishing and grinding produce floors that exceed ADA and OSHA standards for slip resistance and COF.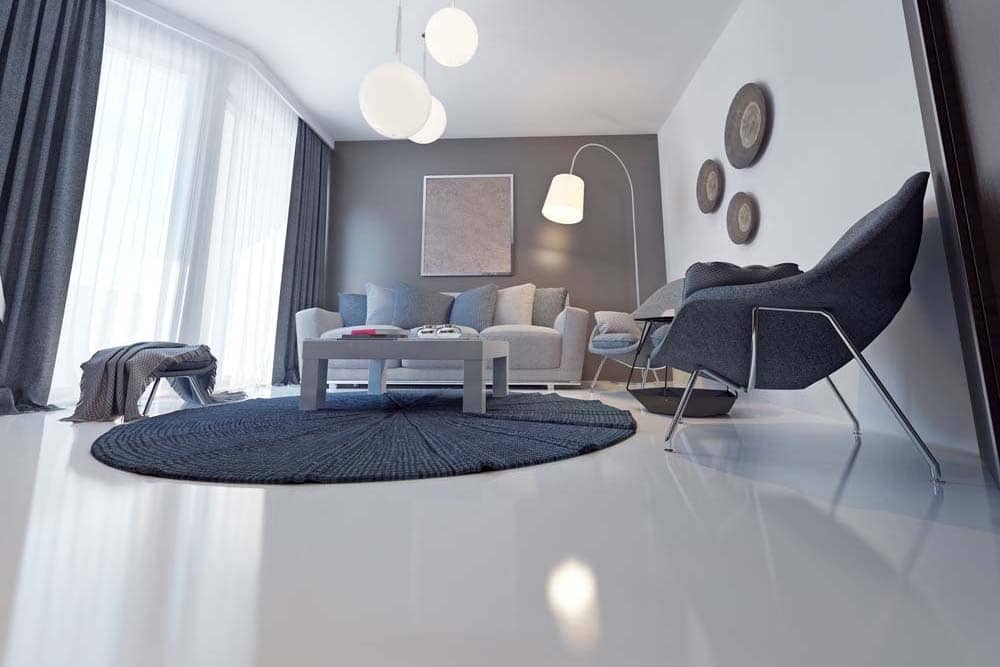 Eco-Friendly & Sustainable
One of the main reasons for the popularity of polished concrete floors is their ability to achieve Green Cleaning and Sustainability Standards. 
You can save thousands of dollars per year in costs by polishing your concrete floor. The savings from reduced maintenance include saving electricity consumed by equipment, the regular purchase of cleaning chemicals, and the janitorial labor. 
You can greatly reduce the cost of lighting by reflecting the visible light already available in the space. This can greatly reduce your dependence on more artificial lighting.
If you have vehicles that regularly drive over the floors (like forklift trucks in a warehouse or cars in a garage), you can reduce the amount of wear and tear on your tires from course unpolished concrete flooring
And since you're not having to use hazardous cleaners and adhesives on an ongoing basis your floor is having a less negative impact on the environment.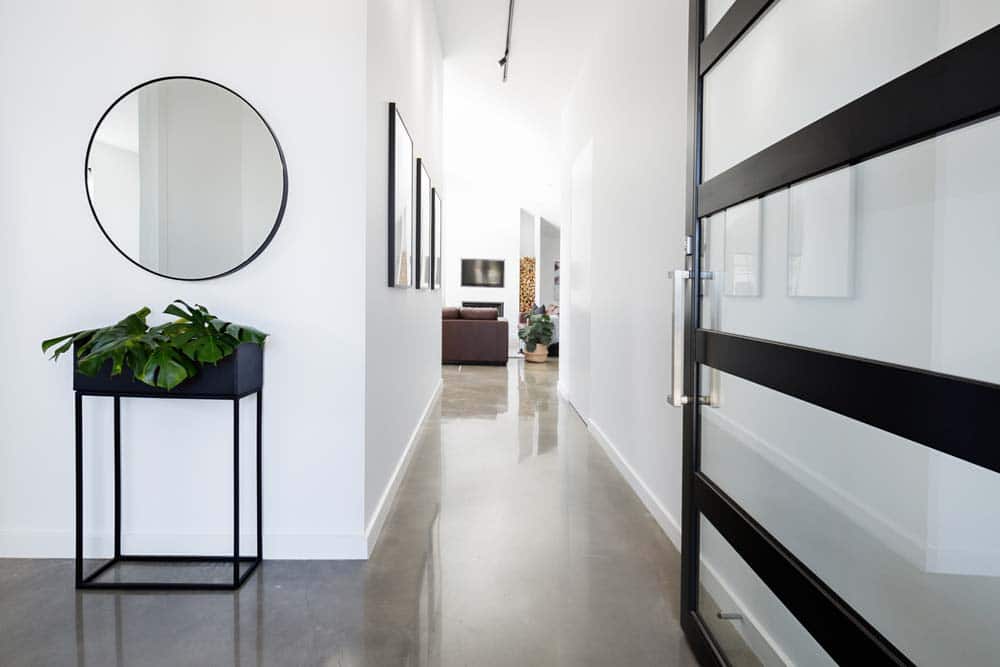 Brighter Spaces
The level of reflectivity (or shininess) of your floor is referred to as its gloss or sheen.
The sheen is created by grinding and polishing the surface with every smaller grid diamond-coated pads.
This added reflectivity amplifies the existing visible light leaving you with bright open spaces.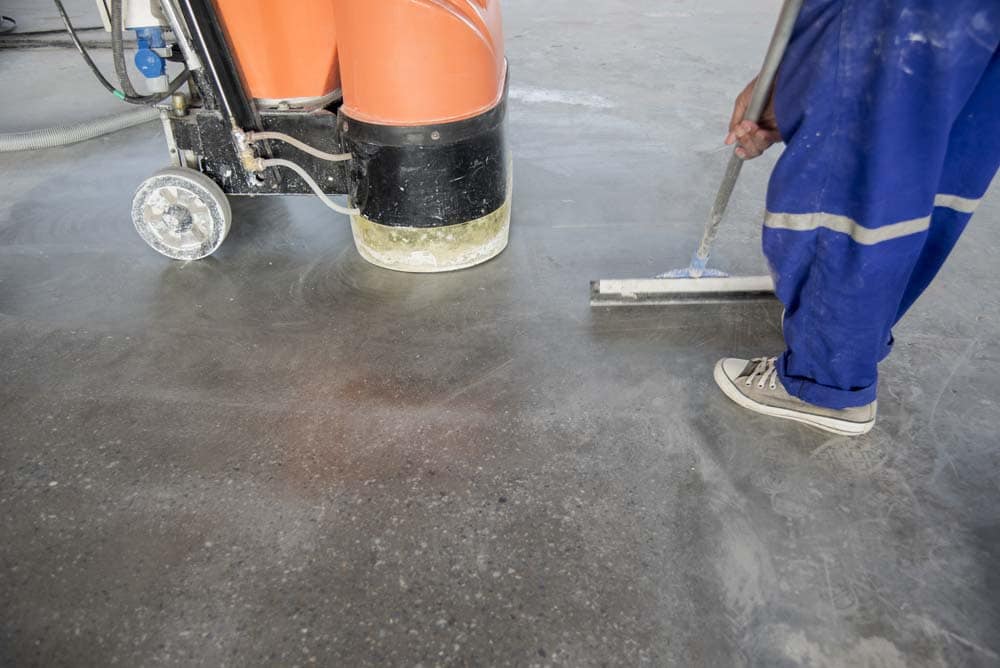 Nearly Permanent
The lifespan of a polished concrete floor is due to its dependence on the quality of the slab below. Despite the possibility of cracks forming due to settling over years, concrete floors can last the entire lifetime of the building. 
Since the sheen of the floor does not from a chemical coating that can deteriorate, re-polishing is only necessary after extremely heavy use.
Miracle Plus Professional
Concrete Polishing Service

s
Grinding and Polishing
We work to develop a tailored service to meet your specific needs.
Prepare
Taking time to prepare the floor makes all the difference in the success of your project. We make sure to lift pre-existing stains, as well as repair any damage to the surface.
Grind
Once we've thoroughly cleaned and repaired the surface we mechanically grind down your concrete using a grinding machine with diamond heads. This process flattens and smooths the floor.
Densify & Seal
In order to create a non-porous, dense surface we add a chemical application, called a densifier, that fills in all the pores. This helps in the next steps of the polishing process and makes the floor more resistant to weather exposure, water, grease, and oil stains.
Hone
Not everyone needs a high sheen reflective surface. If you want all the advantages of polished concrete without the high reflectivity, we can use a less aggressive diamond pad to increase the smoothness by producing a shine.
Polish
This is the last step where we take the surface to its final level of shininess using progressively finer grinding tools.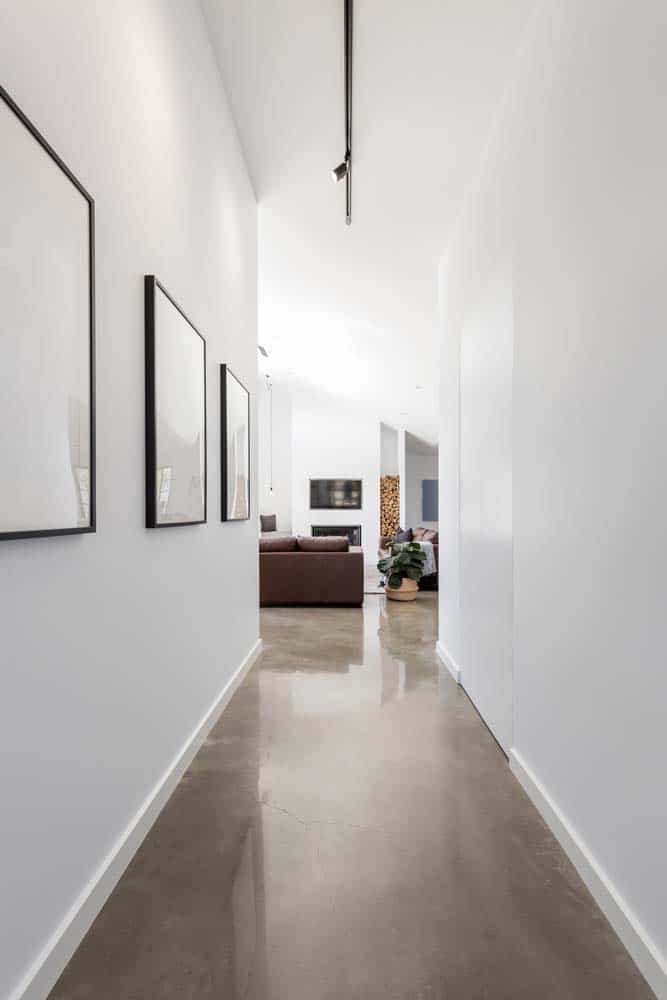 Add Color with Stains & Dyes
We offer a variety of color choices including, stains, and dyes to make your floor a unique work of art.
We can even use multiple colors to create endless options. 
Stains usually come in one of the following types: film-forming, penetrating, and acid stains.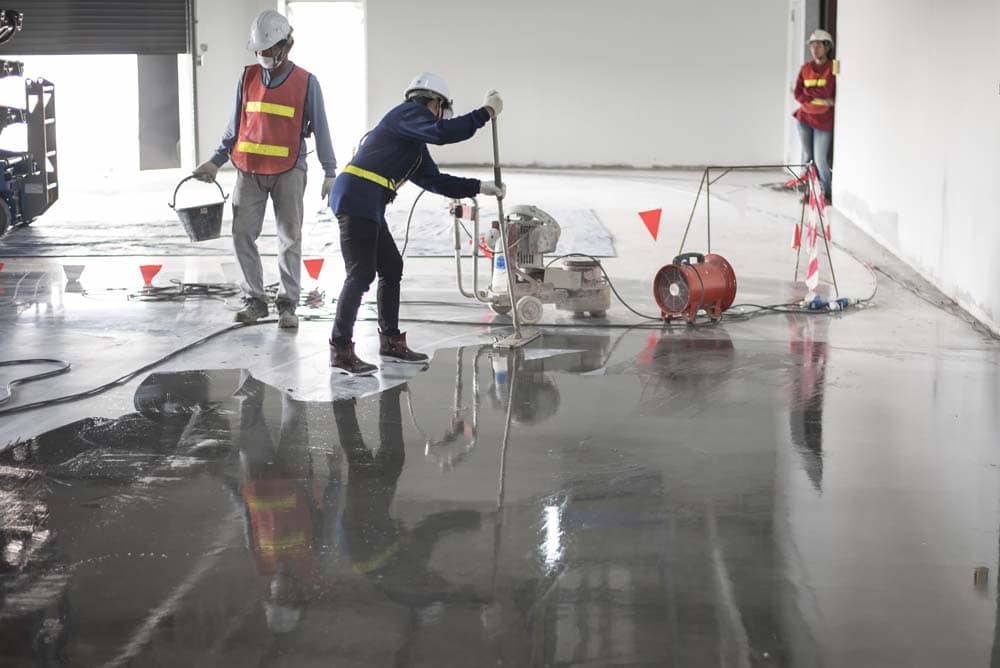 Additional Support Services for Concrete Polishing:
Tile removal

Thin-set removal

Vinyl/linoleum removal

Black mastic removal

Water-based glue removal

Carpet removal and haul away

Patch carpet tack strip holes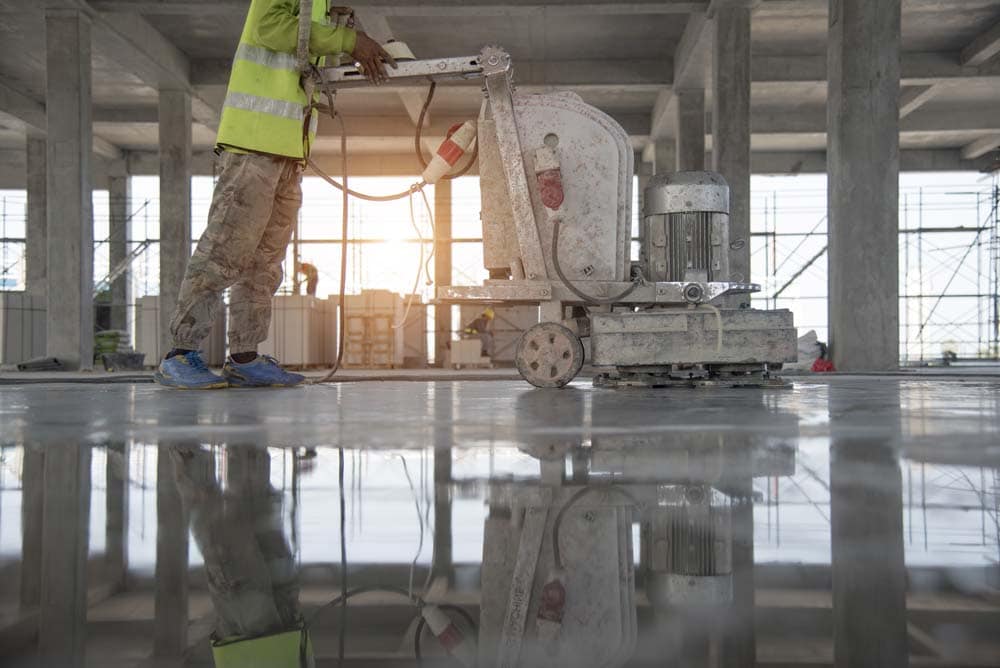 The Miracle Plus Method
We use a 4-Step framework to ensure we remain a valuable partner for our clients.
Step 2:
Professional Crew Members & Training
Step 3:
Green & Sustainable Facilities Procedures
Step 4:
Customized Janitorial Procedures
Systems-Based Management and Quality Control
Our management team has many dozens of years of experience providing Building Services in the Silicon Valley Area. What we've learned is that efficiency (or the lack of it) is one of the most critical factors in a successful contract. 
That's why we have invested in developing and implementing the systems and technology to manage all the tasks involved in making a building operate optimally.  
We also have implemented systems to eliminate the guesswork in scheduling crew members and reporting to you.
Step 2:
Professional Crew Members & Training
Professional Crew Members & Team Training
We extensively train our team members on all the processes, products, and procedures necessary to maintain your building. This way the whole team has the skill necessary to do their jobs to the highest standard.
We divide our training into three distinct areas: 
Proper Use of Chemicals 

Cleaning Equipment Operation

Cleaning Procedures

Safety Protocols
All staff members are licensed, bonded, and insured. They have all passed background checks for security purposes.
Our routine management inspections, ensure high team performance and find areas where they may need more resources or training.
Step 3:
Green & Sustainable Facilities Procedures
Green & Sustainable Facilities Procedures
Every business has different goals when it comes to adopting Green and Sustainable Building Standards. We have the experience of working for companies with a broad range of Green and Sustainable initiatives. We customize our procedures to help you reach your goals.
We have successfully helped implement sustainable/green building management goals in the following areas:
Preventing ecological contamination

Energy efficiency

Water efficiency

Materials efficiency

Indoor environmental quality ( use of HEPA, high-efficiency particulate air, filtration systems)

Eco-friendly cleaning chemicals (free from VOC's or Volatile Organic Compounds)

Recycling and Waste Management
Your initiatives become our guiding principles. We have the skill, knowledge, products, and equipment to achieve your organization's objectives.
Step 4:
Customized Janitorial Procedures
Customized Janitorial Services
& Commercial Cleaning
Every building, facility, and organization is unique.
This is why we design our approach to meet your specific needs. 
No job is too big or too small…
We've serviced campuses exceeding 5,000,000 sqft to small offices of just 3,000 sqft. 
Do you have unique janitorial needs?
We have the experience to handle special requests and hear your concerns.
We work with you to determine what set of services your facility needs.
We can cover all your janitorial needs from routine tasks to major maintenance projects, like pressure washing, construction clean up, and concrete polishing.
Typically Janitorial Services We Provide:
Cleaning window and mirrors

Mopping and sweeping floors

Sink and toilet cleaning

Restocking paper and soap supplies

Carpet cleaning and vacuuming

Emptying trash and wastepaper baskets

Stripping and waxing floors

List item spot cleaning and deep cleaning

Cleaning lunchrooms or kitchens

Unlocking and locking buildings

Cleaning vents to air conditioners

Dusting shelves and cabinets
Our Specialized Commercial Cleaning Services:
Blind Cleaning

Clean Room Services

Computer Room Cleaning

Document Disposal

Medical Waste Disposal

Emergency Services

Escalator Cleaning

Food Service Sanitation

General Maintenance

Inventory Control

Pressure Washing

Recycling Services

Restroom Sanitation

Special Event Services

Supply Management

Upholstery Cleaning

Window Cleaning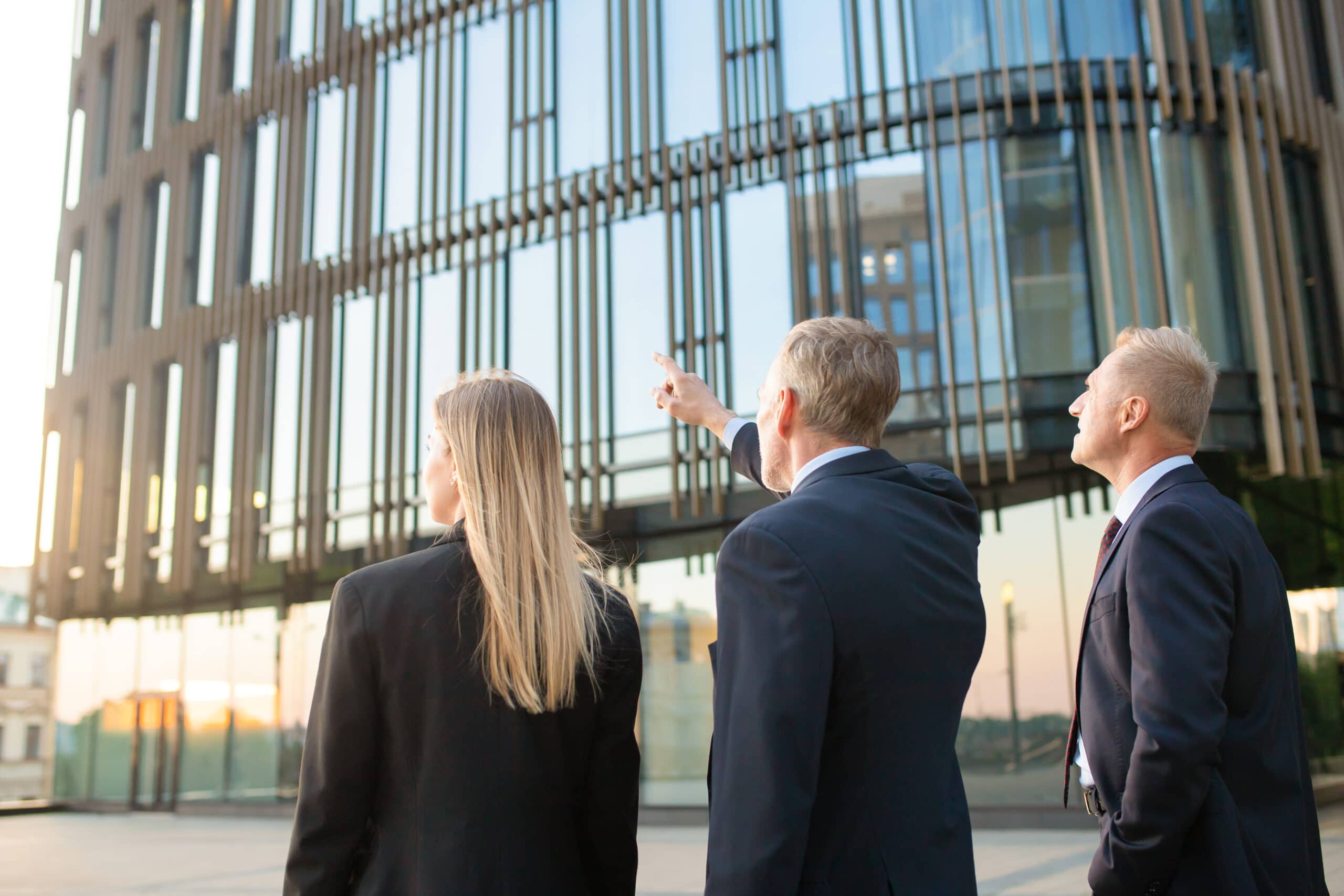 architects, developers, contractors, building managers, facilities managers, real estate companies, mortgage companies, retailers, heavy industry manufacturers, building associations, condo associations, industrial complexes, and government agencies
The Types of Buildings we Service
Commercial Facilities
Office buildings, shopping centers, corporate offices, executive offices, and stadiums.
Healthcare & Medical
Hospitals, medical offices, emergency clinics, dental offices, specialty clinics, vet clinics.
Government Buildings
Townships, Postal Offices, Courthouses, Police Stations, City Halls, Historic Centers, and more.
Schools & Universities
Day Cares, Private & Public Schools, Universities, Colleges, Training & Vocational Centers.
Warehouses
Industrial Facilities, Warehouses, New Construction, Pharmaceutical, Processing Facilities.

Our 4-Step Miracle Plus Method can give you the foundation necessary to properly maintain and protect all facets of your property or facility.